We created our 5 ELEMENTAL CLASSES to help you build and sustain a yoga path that creates freedom and an overall sense of well-being.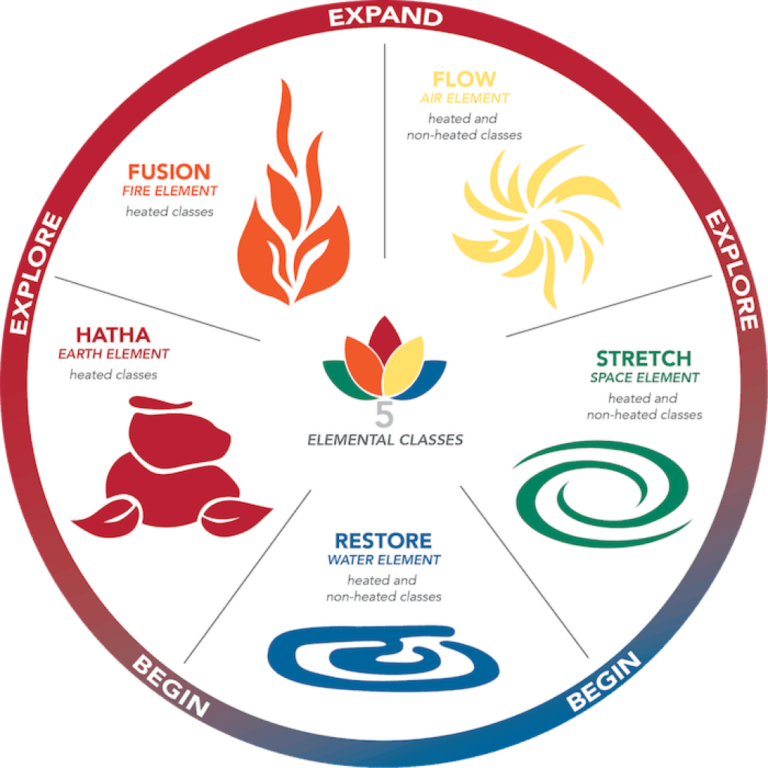 This classical hot yoga class represents the Earth element with a main structure of 26 static poses and 2 breathing exercises. Including slight variations, this grounding practice is sure to build patience, will power, determination, and confidence.
This transformative class embodies the element of Fire by blending static and flow postures. The wide variety of dynamic poses that ebb and flow in energy will enhance your stability, strength, and flexibility. Suitable for all levels.
This dynamic class represents the Air element with a series of salutations and postures, starting out slow and simple, and then builds towards more intense, apex postures. This invigorating all-levels practice creates a sense of freedom and stability through movement.
This moderate practice represents the element of space, physically and mentally. Whether you are an athlete needing some recovery or a beginner wanting to expand, this class will provide you an opportunity of long, steady holds that will provide a balance of strength and flexibility.
This nourishing class is the essence of the water element. With the lights low and supportive props, you will yield into long, slow, deep holds that will melt away tension and leave you feeling relaxed and renewed.

This engaging class is a strong complement to your yoga practice! You will mindfully challenge the muscle groups' strength and flexibility while bringing emphasis to the core. You are sure to feel stronger and more agile in your everyday movements.

Enjoy slow, meditative movements with stretching and self-massage. Become consciously aware of the present moment as we focus on feeling instead of thinking. Simply learning to BE = Breathe & Expand.

These classes are held in a series format for different age groups. Kids will explore yoga poses, breathing exercises and meditation techniques that cater to the varying interests, energies, and developmental stages of the children.

Dive deep into your practice knowing that your child is safe and happy in our learning center based child care with excellent care providers.
Mountain Yoga Sandy is a primarily hot yoga studio in Sandy that offers a variety of heated and unheated yoga classes. We can add more to your existing yoga practice or create strong foundations for beginners. We believe breathing and moving together is one of the best ways to get the most out of your yoga practice. We offer a variety of yoga classes:
Moving With Intention
Every single one of our yoga classes begins with a specific intention that will help you work on yourself. Sometimes this means focusing on body awareness, other times, it's about learning how to reframe your thoughts, and sometimes it's merely about pausing to be in the moment. Yoga offers many benefits, including physical benefits like improving strength, balance, and flexibility, mental benefits like increased relaxation and decreased stress, and spiritual benefits like increased energy and improved mood.
We offer all of our yoga classes in the yoga studio as well as online in order to provide these benefits to our entire community, no matter where they are in the world. Our community is an essential part of our yoga studio as we love connecting with one another before and after each class. We aim to help each and every member of our community grow into the person they genuinely desire to be. 
Come As You Are
We also pride ourselves on our humanism. We don't expect perfection from any of our students because we are all on this journey together. Nobody comes to yoga because they're already perfectly zenned out. We are here because we know how wonderful it is to work towards that inner calm. 
Think our studio sounds right for you? Please keep reading to learn more about our class types.